Saint Luke Roman Catholic Church
5235 South Avenue – Boardman, Ohio – 44512 | (330) 782-9783 | saintlukes@zoominternet.net
Saint Luke Mass
Join us for 10:00 a.m. mass on Sunday. Mass will be live-streamed  on the Saint Luke Facebook site.  If you do not have a Facebook account, you will find  the mass under "Our Facebook Page" in the right hand column on this website.
Tips for viewing Mass on FaceBook:
For full screen, open the video in a new tab with left click on Facebook f icon below the video
For sound, click on the speaker icon in the lower right corner of the video
Bishop Murray has announced directives for resumption of Catholic liturgies.
Click here for Bishop's directives (updated May 22).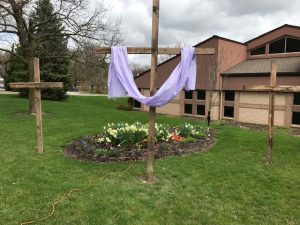 Spiritual Communion via Live-Streamed or Televised Mass
Click here for Spiritual Communion to view printable document.
Parish Mission Statement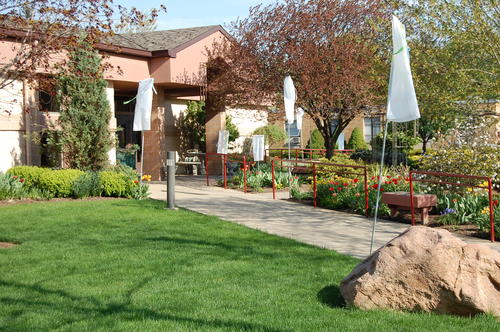 We are members of Saint Luke Parish, a Roman Catholic Community of Faith within the Diocese of Youngstown.  We are deeply rooted in both Scripture and tradition.
Born in Baptism and sustained by the celebration of the Eucharist, we embrace our life in Christ through prayer and sacrament, service and outreach, proclamation of the Word and formation in faith.  Guided by the Holy Spirit and motivated by our love of God and of all people, we are both a sign and an instrument of the Kingdom of Promise.
Our unique blessing and gift is that we are a parish family which creates a warm and welcoming worship environment and participates fully in the planning and celebration of the Liturgy.
Saint Luke Stewardship Prayer
Heavenly Father, life is your gift to us.  You call us to live our lives in service to others.
Guide us as we choose each day to show your presence to all those we meet.
Give us the courage to do whatever we can, with whatever we have, to bring your love to our community, and the world.
Celebrating the Eucharist
Saturday Mass at 4:30pm
Sunday Mass at 10:00am
Tuesday and Friday Mass at 8:00am
Wednesday no services
Holy Days, please consult the bulletin
Traveling Catholics
St. Luke Parish welcomes Catholics who are traveling through our area. The link below lists churches and mass times to aid Catholics on travel.
St. Luke Parish Video
Click here to view a video tribute to Saint Luke Church
(Video lasts approximately 1 hour)
Stewardship Reflection for
September 20, 2020

Twenty-fifth Sunday in Ordinary Time

Though we can never fully grasp the infinite perfection of God and His ways, a basic knowledge of Scripture reveals that God's logic and priorities often differ from worldly logic and priorities. What does this mean for us who call ourselves His disciples and stewards? It means that our way of life should look decidedly different from a "worldly" way of life.
Our first reading, from Isaiah, starts with a bang. "Seek the Lord while he may be found, call him while he is near." As stewards, we know that all things, including time, are gifts from the Lord. The time to know, love, and serve God is now! We must not waste any of the precious moments that He has gifted to us. This means that the way we prioritize our time will often be at odds with the world's priorities. Worldly thinking says we must focus on things like "getting ahead," "looking out for number one" and the idea that "time is money."
We are reminded clearly in this passage, however, that God thinks bigger than this. "For my thoughts are not your thoughts, nor are your ways my ways, says the LORD. As high as the heavens are above the earth, so high are my ways above your ways and my thoughts above your thoughts." As His followers, we must strive as best we can to think as God does, using our time (and our talents and treasure, too) with eternity in mind.
St. Paul describes this radical kind of thinking in our second reading, from the Letter to the Philippians. He says, "Christ will be magnified in my body, whether by life or by death. For to me life is Christ, and death is gain." For Paul, life is not about Paul. It's about Christ. This should be our mindset as Christ's disciples, too.
In our Gospel passage from Matthew, Jesus offers us a glimpse of the "Godly logic" of the Father through a parable of a landowner hiring workers for his vineyard. The landowner goes out early in the morning and finds a group of laborers who agree to work for the usual daily wage. Later in the morning the landowner goes out again and notices another group "standing idle" in the marketplace. He invites them to work in his vineyard, too. The landowner repeats this exercise at noon and finally late in the day, as he comes to a last group of folks still waiting for work. At the end of the day, the landowner pays all the workers a full day's pay, whether they had labored from the early hours of the morning or whether they had begun late in the day. This angered the laborers who had worked longest and they grumbled against the landowner. But those laborers were relying on human logic and human calculations. They were not thinking as God does.
This can happen to us Christian stewards as well. We can grumble and complain (at least internally) when we compare ourselves to others and sense that not everyone is contributing as much as we are to the parish, the neighborhood, within our family and so on. At those moments, we need to think bigger! We must remember that it is a great privilege to have been called by the Father to work in His vineyard. The more time we are given to do this work, the greater the gift!
Living the stewardship way of life — making Christ our life — brings us meaning, depth and purpose. Let's embrace this Godly thinking and thank Him for calling us to this way of life.
St. Luke Parish Activities
Campora Catering offering Tuesday to-go meals – Menu: