Saint Luke Roman Catholic Church
5235 South Avenue – Boardman, Ohio – 44512 | (330) 782-9783 | saintlukes@zoominternet.net
Saint Luke Mass
Join us for 10:00 a.m. mass on Sunday. Mass will be live-streamed  on the Saint Luke Facebook site.  If you do not have a Facebook account, you will find  the mass under "Our Facebook Page" in the right hand column on this website. This Sunday, August 9, we will be celebrating a baptism too.
Tips for viewing Mass on FaceBook:
For full screen, open the video in a new tab with left click on Facebook f icon below the video
For sound, click on the speaker icon in the lower right corner of the video
Bishop Murray has announced directives for resumption of Catholic liturgies.
Click here for Bishop's directives (updated May 22).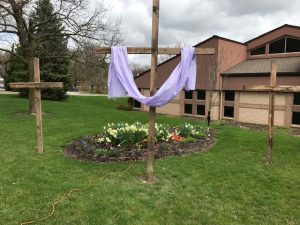 Spiritual Communion via Live-Streamed or Televised Mass
Click here for Spiritual Communion to view printable document.
Parish Mission Statement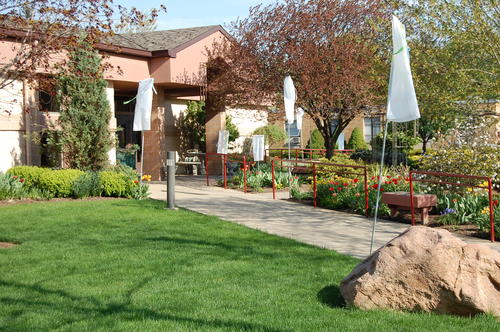 We are members of Saint Luke Parish, a Roman Catholic Community of Faith within the Diocese of Youngstown.  We are deeply rooted in both Scripture and tradition.
Born in Baptism and sustained by the celebration of the Eucharist, we embrace our life in Christ through prayer and sacrament, service and outreach, proclamation of the Word and formation in faith.  Guided by the Holy Spirit and motivated by our love of God and of all people, we are both a sign and an instrument of the Kingdom of Promise.
Our unique blessing and gift is that we are a parish family which creates a warm and welcoming worship environment and participates fully in the planning and celebration of the Liturgy.
Saint Luke Stewardship Prayer
Heavenly Father, life is your gift to us.  You call us to live our lives in service to others.
Guide us as we choose each day to show your presence to all those we meet.
Give us the courage to do whatever we can, with whatever we have, to bring your love to our community, and the world.
Celebrating the Eucharist
Saturday Mass at 4:30pm
Sunday Mass at 10:00am
Tuesday and Friday Mass at 8:00am
Wednesday no services
Holy Days, please consult the bulletin
Traveling Catholics
St. Luke Parish welcomes Catholics who are traveling through our area. The link below lists churches and mass times to aid Catholics on travel.
St. Luke Parish Video
Click here to view a video tribute to Saint Luke Church
(Video lasts approximately 1 hour)
Stewardship Reflection for
August 9, 2020

Nineteenth Sunday in Ordinary Time

Stewardship spirituality invites us to surrender control of our lives to God in grateful recognition of the simple truth that all we have is a gift from Him.
While today's readings remind us that God is always in control of His creation and His creatures, the readings also illustrate what amazing things can happen when we fully permit God to take charge of our lives when we embrace the stewardship way of life.
In our First Reading, from the First Book of Kings, Elijah the prophet is instructed to go outside and wait for the Lord. Elijah goes out and a series of spectacular phenomena occur — strong and heavy winds that crush rocks, followed by an earthquake, and then a fire. Yet, the Lord was not found in any of those. Rather, the Almighty was found in a "tiny whispering sound." How unexpected!
We must always remember that our wonderfully-mysterious God sometimes comes into our lives in the most unexpected ways. Do we stay alert and sensitive to His presence to receive the instruction and the countless gifts He is always sending us?
It is all too easy to fail to recognize His presence and gifts in our lives. Taking things for granted — friends, family, material gifts, even God Himself — seems to be part of our human condition.
Paul points this out in our Second Reading, from his letter to the Romans. He laments that some of his fellow Israelites — God's chosen people who have received so many gifts from God, including the law, the promises, and the patriarchs — fail to see the gift of Christ now offered to them.
This happens to us modern-day disciples, too. We have received all the riches of Church teaching and the Scriptures, and the overwhelming treasury of graces in the sacraments, including the gift of Christ Himself in the Eucharist. Our family, our friends, our work, our parish — all these things are gifts from God, as well. When we take our eyes off God, we fail to see that all is a gift from Him, we lose trust in Him, and we do not live out our lives as a grateful response to Him.
In our Gospel passage from Matthew, we learn that Peter makes this very mistake. Just after the multiplication of the loaves and fish, Jesus sends the disciples in a boat ahead of Him to the other side of the shore. Later that evening, Jesus casually strolls up to the boat, walking on the sea. Peter says, "Lord if it is you, command me to come to you on the water," and Jesus responds, "Come." As Peter begins to walk on the water, he momentarily takes his eyes off Jesus to notice the strong wind surrounding them. With that, he sinks.
But what if Peter had not taken his eyes off Christ? What if he had not allowed that moment of doubt, that lack of trust to overcome him? What a grand adventure he could have had out there walking on the sea with Jesus! When we take our eyes off Christ, the many blessings He has given us, and the loving way He treats us, we sink, too.
When we embrace the stewardship way of life and let go of the tight hold over our money, time and talents, our lives become a grand adventure, rooted firmly and gratefully in the God Who always cares for us.
St. Luke Parish Activities
Campora Catering offering Tuesday to-go meals – Menu: