Saint Luke Roman Catholic Church
5235 South Avenue – Boardman, Ohio – 44512 | (330) 782-9783 | saintlukes@zoominternet.net
Saint Luke Mass
Join us for Mass by clicking on the link below.
St Luke Mass May 24, 2020 the Ascension of Jesus
Resumption of Liturgies
Bishop Murray has announced directives for resumption of Catholic liturgies.
Click here for Bishop's directives (updated May 22).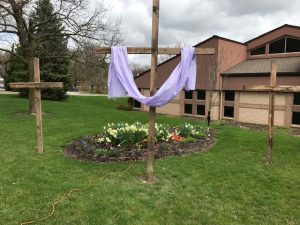 Spiritual Communion via Live-Streamed or Televised Mass
Click here for Spiritual Communion to view printable document.
Parish Mission Statement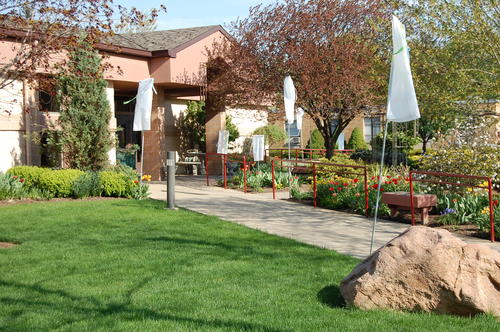 We are members of Saint Luke Parish, a Roman Catholic Community of Faith within the Diocese of Youngstown.  We are deeply rooted in both Scripture and tradition.
Born in Baptism and sustained by the celebration of the Eucharist, we embrace our life in Christ through prayer and sacrament, service and outreach, proclamation of the Word and formation in faith.  Guided by the Holy Spirit and motivated by our love of God and of all people, we are both a sign and an instrument of the Kingdom of Promise.
Our unique blessing and gift is that we are a parish family which creates a warm and welcoming worship environment and participates fully in the planning and celebration of the Liturgy.
Saint Luke Stewardship Prayer
Heavenly Father, life is your gift to us.  You call us to live our lives in service to others.
Guide us as we choose each day to show your presence to all those we meet.
Give us the courage to do whatever we can, with whatever we have, to bring your love to our community, and the world.
Celebrating the Eucharist
Saturday Mass at 4:30pm
Sunday Mass at 10:00am
Monday and Thursday Communion Service at 8:00am
Tuesday and Friday Mass at 8:00am
Wednesday no services
Holy Days, please consult the bulletin
Traveling Catholics
St. Luke Parish welcomes Catholics who are traveling through our area. The link below lists churches and mass times to aid Catholics on travel.
St. Luke Parish Video
Click here to view a video tribute to Saint Luke Church
(Video lasts approximately 1 hour)
Stewardship Reflection for
May 24, 2020

The Ascension of the Lord

Today we celebrate the great feast of the Ascension of our Lord, that glorious moment when Jesus, 40 days after His resurrection, was lifted up — quite literally— into heaven, as the apostles watched in stunned amazement. It is recounted in both our first reading, from Acts, as well as the Gospel passage, from Matthew. It must have been an extraordinary thing to witness.
But the first reading tells us that the apostles were not permitted to simply bask in the moment for very long. "While they were looking intently at the sky as he was going, suddenly two men dressed in white garments stood beside them. They said, 'Men of Galilee, why are you standing there looking at the sky?'" In other words, "Don't just stand there, do something!"
This verse is a call to each one of us Christian stewards this very day. We have been given every grace and blessing through the Mass and all of the sacraments, through the Word of God, the rich teachings of our faith, and even our talents and our material possessions — so many gifts and blessings that we should live in a kind of stunned amazement ourselves.
And like those first apostles, we are not meant to just stand here, but to do something with these gifts — in love and gratitude to the One Who gave them to us. We are called, just as much as the first apostles "to be [His] witnesses… to the ends of the earth," not with our own power, but through the power of the Holy Spirit in us.
Our second reading, from the Letter to the Ephesians, reminds us of the might and power of God whose witnesses we are. In fact, St. Paul describes "the surpassing greatness of His power." He reminds us that the Father raised Christ from the dead and has placed Him "far above every principality, authority, power, and dominion… not only in this age but also in the one to come." This is the mighty God we serve, the One Who has blessed us with every good thing, and the One Who now gives us the privilege of serving as His witnesses to the ends of the earth.
This God knows us, His children, so well. He knows that we are prone to fear and weakness just as the first apostles were. In the Gospel passage we read that they went to the mountain as the Lord instructed, and they saw Him there just as He promised. "When they saw him, they worshiped, but they doubted." The Lord was not angered by their doubt. Instead, He encouraged them with a reminder that "all power in heaven and on earth" had been given to Him. With that, He sent them on their way. "Go, therefore, and make disciples of all nations," He told them and He tells us today. And because He is so loving, He gives us one more powerful, comforting reminder — "I am with you always, until the end of the age."
On this feast of the Ascension, let us take a moment to "look up at the heavens" and ponder all the graces and blessings our loving God has given us. Then, let's do something! Let's put all those gifts to work as we serve as grateful witnesses to this amazing God.
St. Luke Parish Activities
Campora Catering offering Thursday to-go meals – May 28 menu: